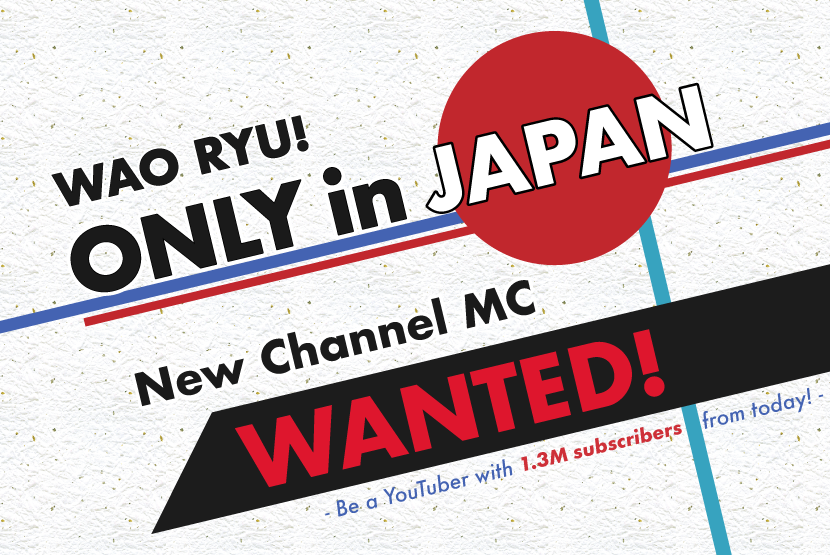 WAO RYU! ONLY in JAPAN
New Channel MC WANTED!
- Be a YouTuber with 1.3M subscribers from today! -
【Purpose】
In February of 2013, WAORYU!TV ONLY in JAPAN was born to introduce areas and culture of Japan
Amazing Japanese food and tradition was introduced through eyes of foreigners in a high-quality documentary style. Many great things about Japan, in which even Japanese people did not know were introduced.
In the year 2012 when the channel started, more than 10million foreign tourists came to Japan. In 2016 the number passed 20 million, and in 2019 the number reached 31.88 million. As the number of foreign visitors to Japan grew, and with many more people interested in Japan, WAO RYU! ONLY in JAPAN became one of the biggest channels in YouTube to introduce and show what Japan is about.
With the 2021 Tokyo Olympic and the 2025 Osaka Expo on its way, the Japanese government aims for 60million foreign tourists to Japan by the year 2030. From pack tours to individual tours. From one- time-only-travelers to loyal repeaters. As the number of foreign tourists and YouTuber viewers grow, the market and the viewer demographics change and the viewers' demand for WAO RYU! ONLY in JAPAN has been evolving.
WAO RYU! ONLY in JAPAN sees this as a second wave of evolution and has decided to renew the channel to meet those demands. More information on what you cannot find in a few days tourist visit will be introduced in much more depth! As with this renewal, we will hold an audition to bring in a new main host to the channel. We are auditioning from our wide viewers around the world whom will be willing to make a buzz in Japan.
【Summary】
■Title
New channel MC WANTED! - Be a YouTuber with 1.3M subscribers from today -
■Deadline
July 31 2020(Fri)23:59 JST
■How many?
Multiple
■ Who we are looking for
1) All ages, all gender(Minors require consent from their guardians)
2) If the below requirments are met, no limits on pros or amateurs
 ・Has a passport with expiration date longer than 1 year
 ・Has resident's card with current address listed
  (Visa support and terms of stay could be discussed)
 ・Native level English conversation
 ・High Japanese writing and speaking level is not required,
  but preferably a basic communication level in Japanese
3) Does not belong to certain agencies or production companies
(Once becoming the main host, an extensive amount of hours will be spent on creating the channel)
4) Groups or Individuals (Your face must be shown on the channel)
5) Past experience as a professional creator is not required. However, experience in creating and releasing videos is required
■How to apply
 Apply through the application form
 ・Prepare a self-promotion video for about a minute.
 ・Upload it to your vimeo or YouTube channel (or already published one) and attach its URL.
■Notes
 ・ONLY candidates who passed the 1st screeing process will be contacted by us.
 ・The second screening process will be announced later.
 ・We do not respond to any inquiries regarding the progress, contents or results of the examination.